There are several ways to create purchase requisitions in Coupa. The varied options enable the typical user to choose from whichever option best fits the way that works for them with the goods and services they're buying.
It also helps from a control aspect because a user's company is more likely to capture the buying activity at the earliest point and have control over what goods and services are being purchased for the organization.
With multiple options for the user, it is more likely that requisitions will be more complete and ready to be processed for approval.
These are 6 ways to create purchase requisitions in Coupa:
Search and select from a catalog supplied by your organization or your supplier(s)
Write in, free-form entry
Browse and choose from a hierarchy of items and/or services
Customized web form
Order list of commonly ordered item/service groups
Use iRequest functionality to pull off product information from any web shopping cart
Search
Search allows users to enter criteria for the good or service they want to buy. The search results are based on catalogs set up by your organization or by your suppliers. This give you control of what users see as results.
Write
Writing in a free-form description of what a user wants to buy, allows them to request new goods or services that wouldn't be listed another way. A user can enter as much information as they have, to complete the requisition. Depending on the completeness of the information, the requisition may need review by the Buyer function, or route directly for approval.
Browse
Users can also browse through a hierarchy to get to items your organization has grouped together. Here's an example of a hierarchy where the user has chosen Maintenance, and then can choose from subcategories: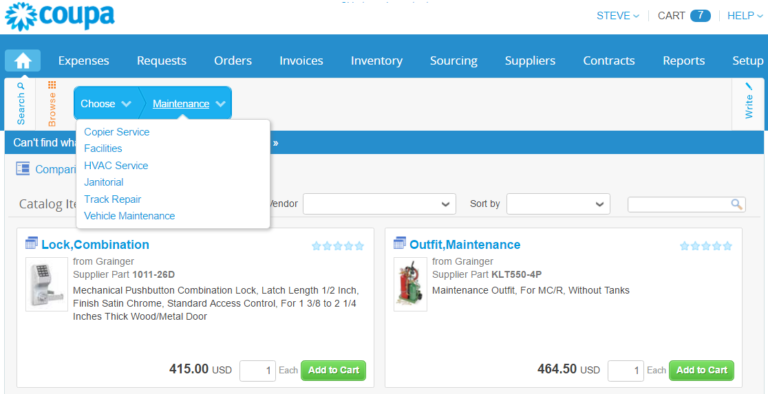 Web Form
Your organization can also create customized web forms for specific types of goods and services, that require additional information to more fully describe the request. Here's an example of a web form to request a specific service: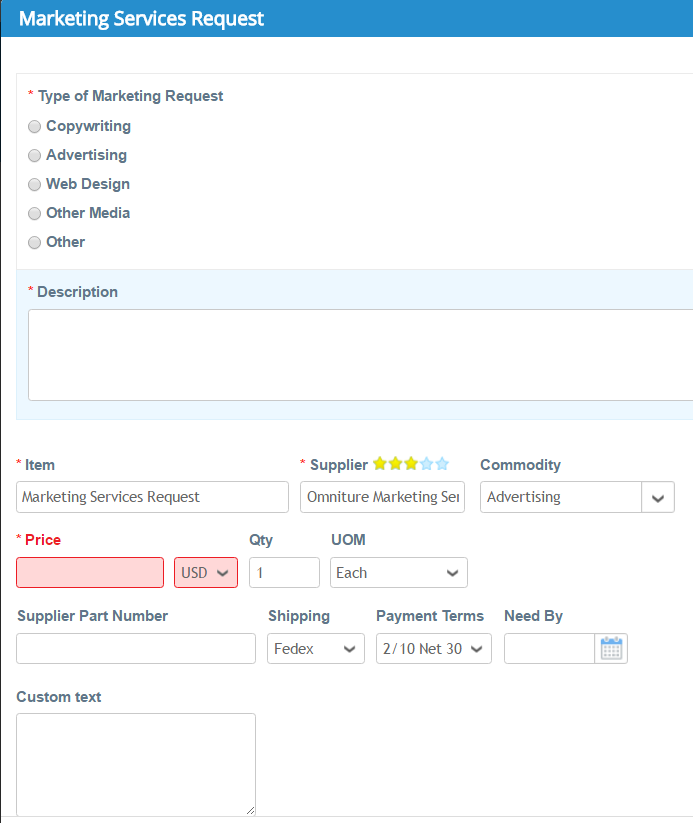 Order List
Order lists can be used to quickly order a list of items and services that are frequently ordered, and may include numerous items that are typically ordered at the same time. Here's an example of a simple order list: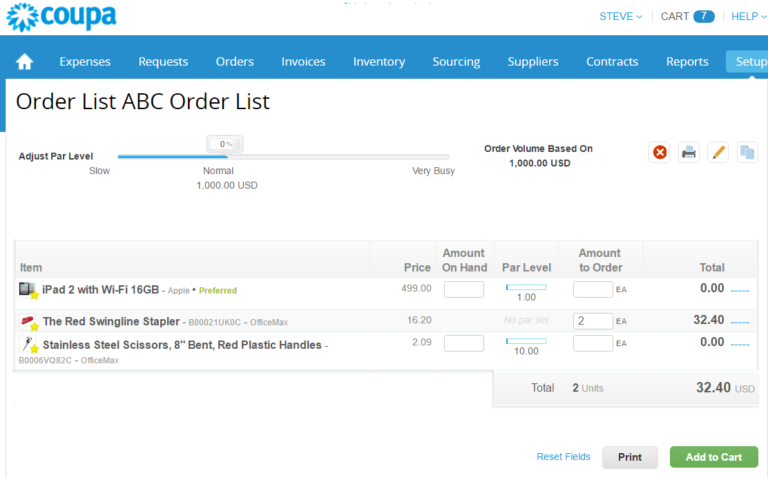 iRequest
iRequest allows users to download item information from almost any website's shopping cart, directly into a Coupa requisition. This is another handy way for users to add items to their requisitions.
Here's a quick video that shows these different ways to create purchase requisitions in Coupa:
Learn more about how Coupa procurement can benefit your company, especially with developed integrations to your key business solutions.