There are a few ways to defer sales income in Dynamics 365 Business Central. This option would be best if you sell an item repeatedly that typically has a standard sales deferral schedule.
To use this function, you first need to set up two things:
Deferral Template
Assign Deferral Template to Item
In the Deferral Template identify the Deferral Account. This is a balance sheet account that is used to control the sales deferral and will maintain the amount of the deferral yet to be recognized. You can also use placeholder codes to dynamically generate transaction descriptions as the periodic transactions are created by the deferral.
When you have identified a Deferral Template, you can assign it to the item for which you want a sales deferral schedule generated every time you include the item on a sales order/invoice. You assign the Deferral Template on the Item Card.
After you have made these two setups, you can include the item on a sales order/invoice and the dollar amount of the sales line will be deferred into future periods based on the Deferral Template.
Once you enter the item with the assigned Deferral Template on a sales order/invoice, you can view the Deferral Schedule by navigating like this.
Line > Related Information > Deferral Schedule
You can edit the Deferral Schedule if you want to change the number of deferral periods or the start date of the deferrals.
Once you post the sales invoice, the deferral transactions will be posted. You can see the deferrals by inquiring on the GL Account identified as the Deferral Account.
The Sales Deferral Summary report provides a nice summary view of current sales deferrals in your system.

This is what a simple Deferral Template looks like: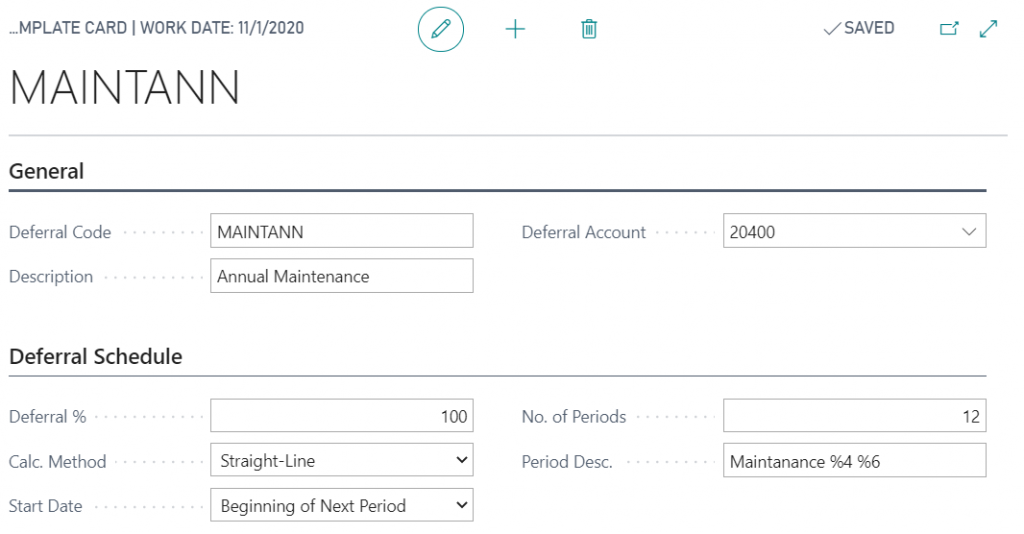 Here's a video that shows this in action:
Discover more helpful insights for the Microsoft Dynamics platform including more on Dynamics 365 Business Central throughout Armanino's Dynamics resources or connect withArmanino's D365 BC teamto learn more.