Artificial intelligence (AI) is a prevalent topic in the media right now because it is impacting a wide range of industries and fields, including Human Resources. So how are we going to use AI in HR? Isn't HR all about the "human" element?
Many HR professionals would say that working with people is one of the main reasons they got started in the field. However, there are many ways that HR teams can use AI to automate certain tasks that take up valuable time. This is time that can be better spent doing great work with the humans we support.
Although the term and concept of AI might seem confusing and make you uncomfortable, you may have been involved in AI activities already and don't even know it! For example, if you recently applied for a new job, your resume might have been scanned by AI screening software. These systems are getting smarter and smarter at screening people for necessary job skills, experience and background. AI also eliminates the "human" bias of illegal discrimination against candidates for things like gender or race, so it is a great way to ensure that the hiring process is unbiased during screening.
Here are some other ways AI is being used in HR.
Payroll – In a standard payroll system, a manager or supervisor will log in to the HR system of record and approve/deny a vacation request. If you're using AI, it can analyze how many people are requesting time off for the same period and accept or decline a vacation request based on how many other people are taking time off then. A human will set the initial parameters, but the system takes care of the repetitive tasks of approving or denying.
Another common task for a payroll manager is handling system password reset requests. Using AI, the password can be reset 24/7 without any human interaction. The employee gets what they need right away, and the manager can take an item off their to-do list.
Recruitment – AI can be used to enhance the candidate experience. For example, a candidate can converse with a chatbot (software that can interact with a human) if they are having challenges or questions come up in the process of adding their resume to the applicant tracking system.
AI can also scan the system to better source and conduct a preliminary screening interview. This is done in the hopes that the communication with AI will increase the speed of hire. Here is a sample conversation between a candidate and a recruiting chatbot. (Of course, the final decision on hiring will be left up to the hiring managers and HR, not the AI system.)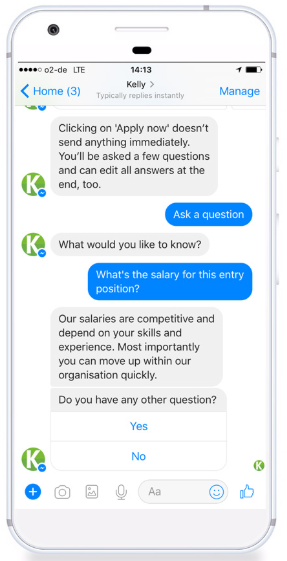 IBM is also using AI software to capture a candidate's digital output. During the screening process, the system looks for work samples and reviews social media posts, searching for evidence of bigotry, etc. This is then taken into consideration regarding moving a candidate forward.
Training and Development – A big area of interest for many employers is gamification, which involves incorporating games into learning to make it fun and interesting for employees, who will then hopefully retain the information they just learned. The gamified learning can be done quickly and efficiently on a mobile device or a desktop. AI can then be used on that training data to analyze trends and user experience to determine if the training is working and whether it is cost effective.
Employee Relations – Chatbots are one type of AI that can be used to assist employees with their commonly asked questions. They can ask the bot about things like vacation policies, pay dates or benefits basics. Another way that AI can be used for employee relations is to run a program on employee emails to search for words that indicate if an employee is happy or not in their role. This data can be given to a manager, who can then meet with the employee to solve any issues and potentially reduce turnover.
MEmployee Engagement – Many companies struggle with employee engagement, and there are statistics that say the majority of the U.S. workforce is either not engaged or actively disengaged in their work (a 2018 Gallup report puts this number at 66 percent). You may be able to improve these statistics by using AI to engage or reengage your employees.
AI can be used to improve the employee experience, especially in larger companies where employees can often feel lost. For example, you can use AI to:
Engage remote employees
Provide 24/7 assistance and support
Generate analytics on real-time performance for the employee or the manager
Make Friends With the Bots
In summary, AI is here to stay, and in the long run it can help make both employees and employers more efficient and knowledgeable. One of the biggest benefits of using AI is that it replaces repetitive work actions with automated functions to remove routine tasks. In HR, this frees up time for more valuable work, leading to more engaged employees and HR professionals.
So get ready to make your AI robot your best friend, as this could be the beginning of a beautiful relationship. Think of it this way – they will never get angry with you for cooking fish in the office microwave or playing your music too loud...
Need some help? Don't hesitate to reach out to one of ourHR Solutionsteam members.