One challenge many companies face is their ability to maintain a current and accurate aging of their accounts receivable. Collectors are judged on their ability maintain low DSO (Days Sales Outstanding) statistics, so keeping amounts out of the 60+Day buckets on the A/R Aging is a common goal. Receivables Management and Collections Management allow users to print A/R Aging reports, send customer letters and track collection progress on past due balances. But what can be done for the common over or underpayment by a customer?
Let's say a customer's balance on an invoice is $3,499.29. The customer pays only $3,499.09 (the customer may have short-paid the invoice because they have a dispute over the additional $.20, but just as often there are data entry errors on the part of the customer's accounting department). Whatever the reason for the payment shortage, you are left with a $.20 amount which, if left unhandled, will continue to age into the 30, 60, 90 Day buckets and beyond on the A/R Aging Report.
When setting up Dynamics GP and training users, it is important to consider all of the options for handling these kinds of payment differences:
1) Contact the customer to collect the $.20. Consider the cost of collecting the $.20 before choosing this option. I it really worth your time and effort?
2) Write-off the amount while applying the cash receipt. This is an option you might consider; in this case the user who is entering the cash receipts will need to have appropriate training and you should set write-off $ limits with password protection.
3) Enter a credit memo for the amount of the short payment. Apply the credit memo to the remaining (open) portion of the invoice. This option is really unnecessary, but it seems that often those who have not been properly trained believe this to be their only option.
4) Use the Over/Underpayments Write-Off Routine in Dynamics GP. This allows those who enter cash receipts, but do not have security to perform write-offs, to continue entering their receipts, then another user can do mass write-offs of both under- and over-payments for multiple customers at one time. This can be a time and cost saver.
How to access the Write-Off Routine: Tools->Routines->Sales->Write-off Documents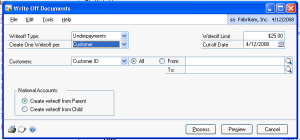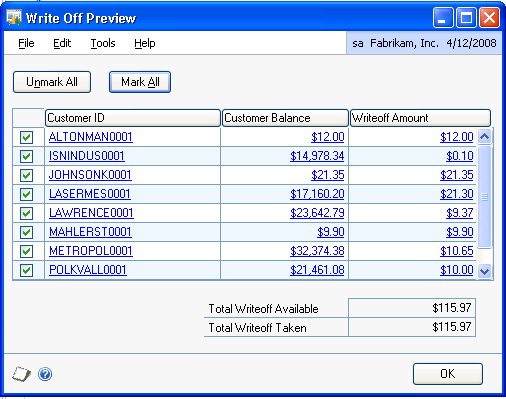 One thing to keep in mind when allowing users to perform write-offs, whether during cash receipt entry to using the Over/Underpayments Utility, is that the default settings in GP Customer Classes and Customer Cards is to NOT allow write-offs. I've often seen users try to use the Utility, only to receive a message that leads them to think there are problems with the Utility when in fact their own settings in the Customer Card and/or Customer Classes have not been customized.