COVID-19 has shown us the importance of being able to do remote work, and your Salesforce solution is the centralized platform that can help you better manage business continuity by enabling you to work from anywhere and on any device. Below are functionalities, features and apps within the Salesforce platform to help you stay connected with your team, streamline business efficiencies and thrive through these disruptive times.
Keep Real-time, Personable Communication With Salesforce Chatter
How do we ensure the quality of communication when we are all digital? Do we lose the personal touch and team-building capacity? Not necessarily. A well-organized, daily stand-up meeting via video conferencing has proven to enhance the outcome of alignment and team building. Salesforce's communication via Chatter (the Salesforce Facebook) helps you organize your meetings, track attendance, share notes and set up tasks. It also tracks action items and provides a social network with all your employees for collaboration.
Chatter acts as the central hub of collaboration built within the Salesforce platform which will greatly help remote workers. It enables users to collaborate securely at work to establish networks, share files and provide status updates. The "groups" feature within Chatter allows users to communicate and collaborate for your team, an event, a new account, or a campaign. You can share files and records, integrate videos and invite customers. The "tags" and "topics" capability enables you to organize all records around a common theme. All these functionalities within Chatter are built to allow for greater personalization and easier access and search, promoting communication.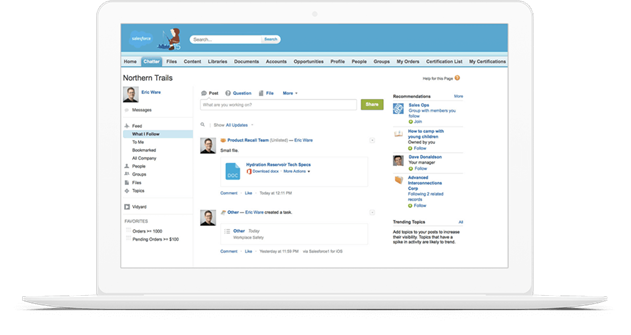 Using Salesforce as One Platform
The Salesforce platform and its app exchange marketplace have extended Salesforce's governance to all business functionalities. Easily installed and configured, these managed packages help Salesforce users to stay focused and tuned in with all-day activities. If you've integrated Salesforce to your major video conferencing tools such as Skype, Zoom or GoToMeeting, it streamlines collaboration via chat, audio and video call.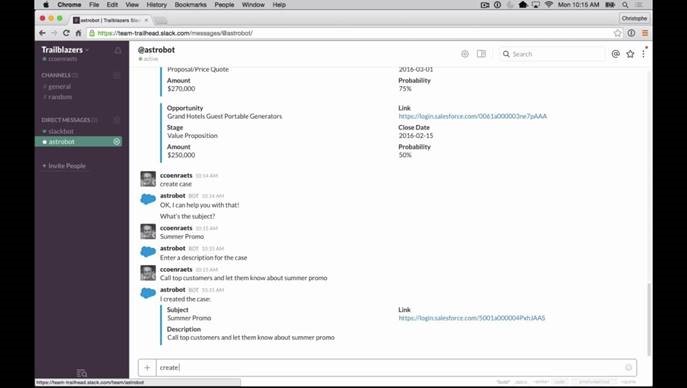 >
The integration of Salesforce to Outlook keeps your communication and activities centralized and organized with real-time trackability. Using the Salesforce Quip app enables teams to collaborate around a rich set of documents right on the platform. There are also dozens of great app exchange packages enabling document generation and managing the agreement process right on the platform.
Integrating Salesforce with your financial data (accounting software package) is also a valuable way to streamline processes, share information across departments and give your business a single source of truth.
As an essential component of remote working, Salesforce two-factor authentication is the most effective way to protect your user accounts and amplify your org's security.
All these intuitive tools are easily accessible with the click of a button and can be right on your phone, as well. The Salesforce mobile app, with its newly designed mobile interface, enables employees to communicate, collaborate and deliver value anywhere and anytime.
Ensure Your User and Customer Success
How do you ensure the Salesforce platform is being utilized to its potential by remote workers? Having a user adoption dashboard provides visibility to relevant user login history and trending adoption of key features. Salesforce.com also can track and analyze pre-determined metrics for system utilization and user satisfaction.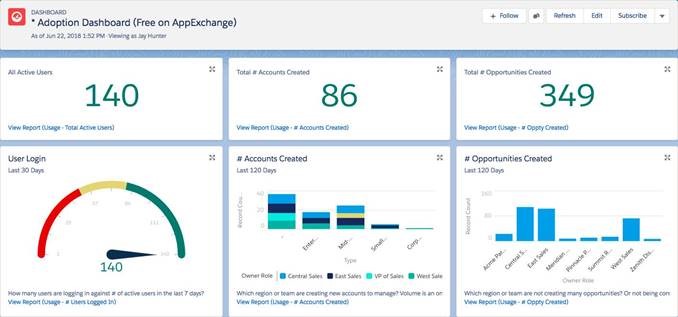 If you need consistent or customized training for remote employees, Salesforce has success community and Salesforce Ideas enabling sharing, troubleshooting and collaborations on functionalities and features. It also has Salesforce trailhead, a robust and personalized training platform for all users, from which users can design their own "trailmixes," learn skills, obtain credentials for recognition and, most importantly, have some fun with the built-in gamification with other colleagues, friends and connections!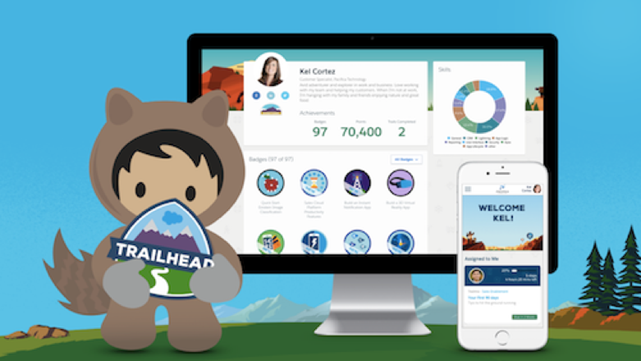 Thriving Together Through Uncertain Times
Armanino, a Salesforce implementation partner, is here to help you enable, configure and train on these valuable features the Salesforce platform has to offer remote workers. Our consulting team has embedded remote collaboration tools into our day-to-day delivery process, which allows remote teams to digitize working sessions in real-time together and empowers teams to make cross-functional collaboration easier through access on both mobile and desktop devices.
In addition, Armanino has created a COVID-19 Resource Center to help you stay up to date on the latest regulatory changes and keep your business running through disruption. Salesforce has also launched a SalesforceCare center for enhanced customer care and tools enabling remote workers.
Have questions or need some help? For the latest regulatory updates and more information on keeping your business running through disruption, visit our COVID-19 Resource Center.