Updated May 22, 2023
It is not unusual to see an uptick in financial fraud schemes during times of change and disruption. Business leaders should monitor their current situation, adjust processes and procedures as appropriate, and communicate an awareness of potential fraud schemes throughout their organizations. These actions will be critical for helping identify, prevent and mitigate financial fraud schemes.
What Is Occupational Fraud?
Occupational fraud is the use of one's occupation for personal enrichment through the deliberate misuse or application of the employing organization's resources/assets. There are three general types of occupational fraud:
Asset misappropriation – Employee steals or misuses an organization's resources
Corruption – Employee's use of influence in business transactions in a way that violates duty to the employer for the purpose of obtaining benefit for self or someone else
Financial statement fraud – Intentional misstatement or omission of material information in the organization's financial reports
Fraud Stories
Here are just a few examples of real-life fraud that show how pervasive the problem is among organizations.
Director of procurement reaped nearly $1.3 million from services that were never provided by her company by falsifying records
CEO of a nonprofit focused on "at risk" children from low-income households received federal grant funding and electronically submitted fraudulent claims (over $250K) for reimbursement based on inflated attendance figures
Misuse of fee program dollars ($125 million) in long-running diversion
Nonprofit board member – self dealing, T&E and other issues identified
Types of Fraud
Financial fraud can take many forms, but the following list can help you protect your organization against potential risks:
Fraudulent disbursement schemes
During times when typical business practices are altered or disrupted, the risk of disbursement fraud may increase. Changes in purchasing levels or typical procurement processes can increase the likelihood that billing or expense reimbursement schemes occur without the proper oversight and monitoring. Don't take shortcuts around disbursement approvals — continue to exercise, or possibly increase your controls.
Insurance-related schemes
After natural disasters or other types of widespread business interruption, insurance-related fraud schemes may increase. Should you receive emails or other communication relating to insurance coverage or claims, be sure to use proper vetting, and conduct appropriate due diligence before sending information or making payments.
Donation-related schemes
You or your business may be targeted by nonexistent or fraudulent organizations seeking donations or financial contributions. Again, be sure to use proper vetting and conduct appropriate due diligence before sending information or donations. Make sure you review the organization's website and also consider using one of these organizations to help you research charities: BBB Wise Giving Alliance, Charity Navigator, CharityWatch and GuideStar.
Risks from additional access
With the closure of offices and businesses, you may have made changes to your typical business processes and allowed employees, vendors or other third parties access to locations and technology systems they might not have access to in normal situations. Be sure to review who should have access to your locations and systems and what level of access is appropriate and ensure that proper monitoring of that access is in place.
5 Keys to Fraud Prevention and Detection
Protect your business by practicing these five steps.
1. Establish a fraud risk governance program
Make an organizational commitment to fraud risk management
Establish a comprehensive fraud risk management policy
Establish fraud risk governance roles and responsibilities
Document the fraud risk management program
Communicate fraud risk at all organizational levels and provide training
Implement a fraud hotline
2. Conduct a fraud risk assessment
Include board, executive management, departments/divisions, operating units and functional levels
Analyze internal and external factors related to ACFE Fraud categories and schemes
Consider using a survey tool or questionnaire
Consider various types of fraud
Consider the risk of management override of controls
Estimate the likelihood and significance of risks identified
Assess personnel/departments involved and the fraud triangle
Identify existing fraud control activities and assess their effectiveness
Determine how to respond to risks
Perform periodic reassessments and assess changes to fraud risk
Document the risk assessment
Consider risk assessment when planning your audits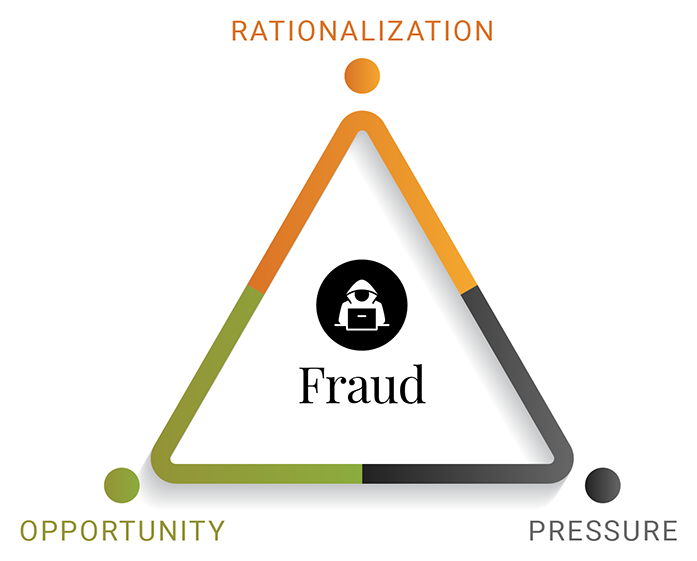 The fraud triangle highlights the three reasons behind a person's decision to commit fraud and can be used as a tool for employee education.
3. Implement fraud prevention and detection measures
Promote fraud deterrence through preventative and detective control activities
Integrate with the fraud risk assessment
Consider organization-specific factors and relevant business processes
Consider the application of control activities to different levels of the organization
Utilize a combination of fraud control activities

Preventative controls (e.g., segregation of duties, limited system access, etc.)
Detective controls (e.g., bank reconciliations, surprise cash counts, etc.)
Human resource procedures (e.g., background investigations, segregation of duties, whistleblower system, etc.)

Consider management override of controls
Use proactive data analytic procedures
Deploy control activities through policies and procedures
4. Conduct fraud investigations and take corrective action
Establish fraud investigation and response protocols
Conduct investigations
Communicate investigation results
Take corrective action
Evaluate investigation performance
5. Monitor fraud risk management
Consider a mix of ongoing and separate evaluations
Consider factors for setting scope and frequency of evaluations
Establish appropriate measurement criteria
Consider known fraud schemes and new fraud cases
Evaluate, communicate and remediate deficiencies
Questions to Ask Today
Begin assessing your organization's risk by asking these three questions.
Do you know where fraud could occur in your organization?
What is your risk?
Do you have adequate policies, controls and processes in place designed to prevent fraud from occurring or detect it early to lessen your financial losses?
Have questions or need assistance with risk assessment, processes or monitoring? Reach out to our CFO Advisory team.