New platform update 23 from Microsoft brings a truly exciting new feature. Previous versions of Dynamics 365 for Finance and Operations were limited to 10,000 rows when exporting to Excel from a grid. Now you can export up to 1 million rows with the default set at 50,000. That's great news: you can now see all your data in Excel anytime you want. It gives you more ways to interpret your data, such as in data validation, VLOOKUP, etc.
One of our customers will soon have over a million rows of records in their billing schedule tables, so they will benefit greatly from this feature. We have built billing schedules as a custom entity that tracks how they will invoice over the course of five-year contracts. It's a table that goes one level deeper than Sales Order lines. Our customer also exports their data to analyze addresses on their Customers, Projects, and Sales Orders to make sure their City + State matches the ZIP. They will also be exporting their invoice lines and sales tax transactions to build some of their basic sales tax reports.
And that's just a few scenarios for one customer. If you are implementing Dynamics 365 F&O or already on it, you will be impressed by this update.
As noted, the default is set to 50,000 rows without any additional setup needed. If you have system administration privileges you can easily increase it. To change the row limit, navigate to the System administration > Setup > Client performance options.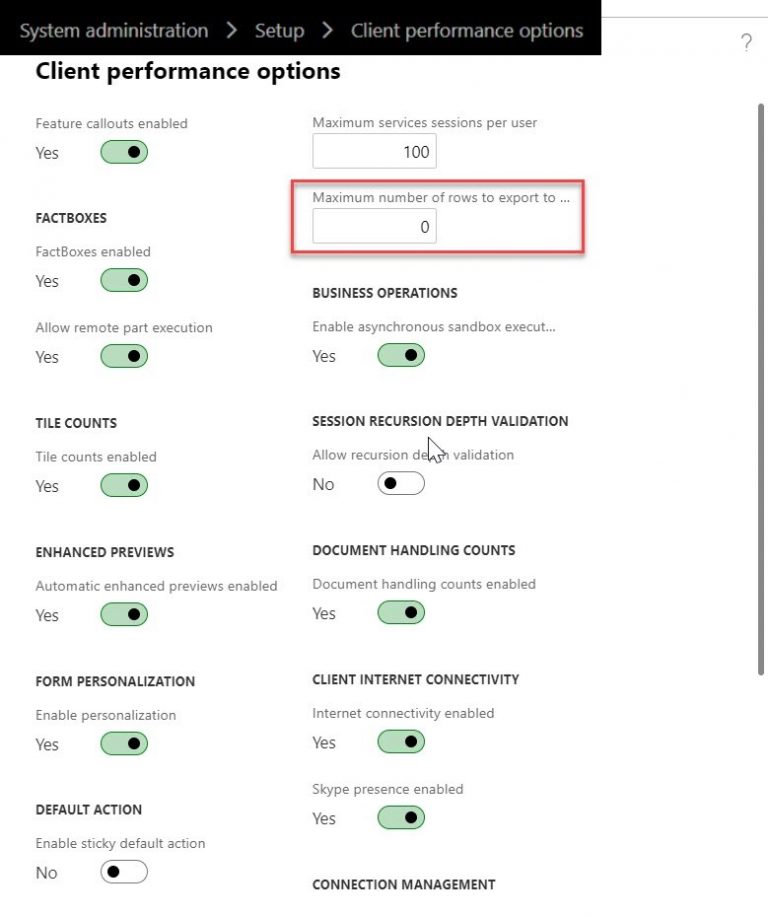 When you export to Excel, you will see a status screen for the export.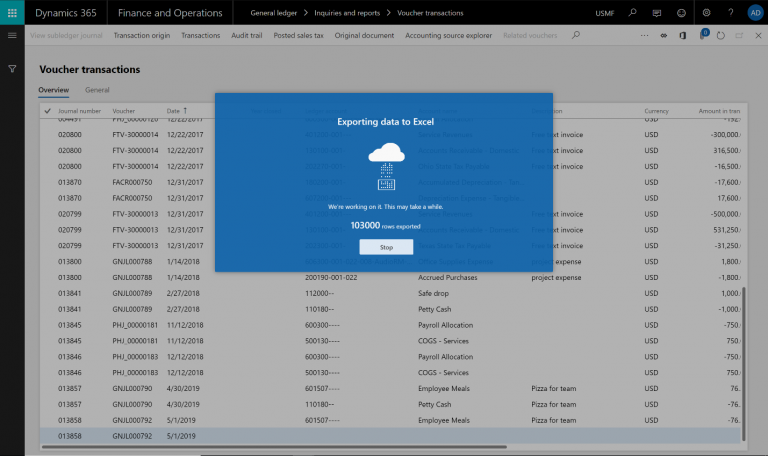 You also have the option of stopping the export at any time. If you do stop it, you can get a file of the rows exported until that point. After the export has been completed you will receive notification in the Action center that the export has finished. According to Microsoft, the link and notification will be accessible for approximately three days after the export finished. Below is an example of the results in Excel after export.