The Dynamics GP Source Document field is a required field on a General Ledger journal entry but people rarely pay any attention to the field because it defaults to "GJ" for "General Journal", which meets the basic criteria. GJ is certainly acceptable for a General Ledger journal entry but you could expand on that code to make it more meaningful and therefore provide another option for reporting transaction detail. The Source Document field is a field you can place a print/search restriction on for standard GL reports, GL transaction inquiries, and smartlists. Therefore, if you do a number of journal entries for the same purpose/event, you could assign them the same Source Document and then later do a search/print restriction on that specific Source Document code. For example, if you have to do some post year-end close journal entries, you could create/assign a source document of "GJ-PCADJ" for "General Journal – Post Close Adjustment" to those journal entries. Subsequently, you could easily run a smartlist of all the post closing adjustments by doing a search of Source Document = GJ-PCADJ. You can create as many Source Document codes as you like. I recommend that you start each new code with "GJ" in case you should want to run a report/smartlist on all journals that originated in the GL, you could easily pull all those that start with "GJ".
To create a new Source Document code, you can type it into the Source Code field on the Transaction Entry window: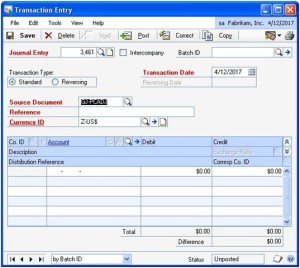 Dynamics GP will then prompt you to add it: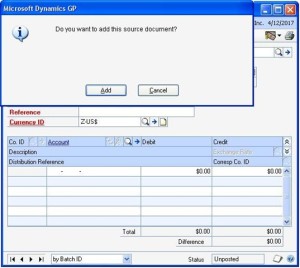 Enter the appropriate title and click the Save button.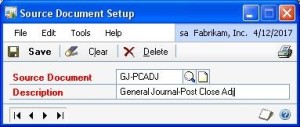 Please note: If you select/view an un-posted journal entry that has any Source Document other than GJ (for example, CMTRX, PMTRX, PMCHK, RMSLS, etc), do NOT change the source document. These source document codes indicate that the journal entry originated from a subsidiary module and from which subsidiary module. Also, when you are entering a General Ledger journal entry, do NOT use these pre-defined source documents, because that would make your journal entry misleading as to where it originated from. If you are unsure which Source Documents are pre-defined and which ones are custom, you can view the pre-defined ones on the Audit Trails Setup window (Tools>Setup>Posting>Audit Trails).