An exciting new feature has made its debut in platform update 14 of D365 for Finance & Operations. Now, you can embed a PowerApp directly into a D365 form or workspace!
While this may be buried along with hundreds of others in the Spring Release, I think this is quite possibly one of the biggest new features. It holds the potential for huge productivity improvements for end users.
This feature gives power users the ability to extend business processes, create composable applications, call external services or trigger "Flows"―all without having to do any code development.
Check out this example:
A user wants to be able to get a real-time view on the delivery status of a sales order. They have created a PowerApp that uses a tracking number to query the status from a logistics provider. Let's take a look at how to embed this PowerApp in D365 F&O.
The first step is to publish a PowerApp on web.powerapps.com. Once it is published, it will be given an App ID that can be found on the details tab of the PowerApp.
Next, the user can log into D365, and navigate to the sales order form where they would like to embed the PowerApp. They can select the button to insert a PowerApp and enter in the App ID. The input data for the PowerApp allows the user to select the field to map to the application from the drop-down list. Click Insert, and it's done.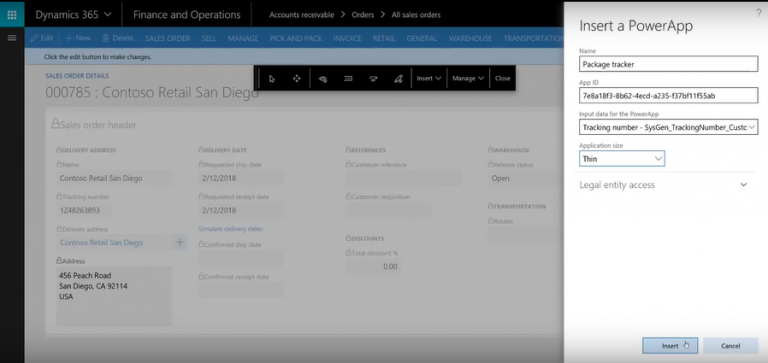 That's it―no code required. Just insert and refresh the form. Now the user can open their PowerApp by clicking the PowerApp drop-down.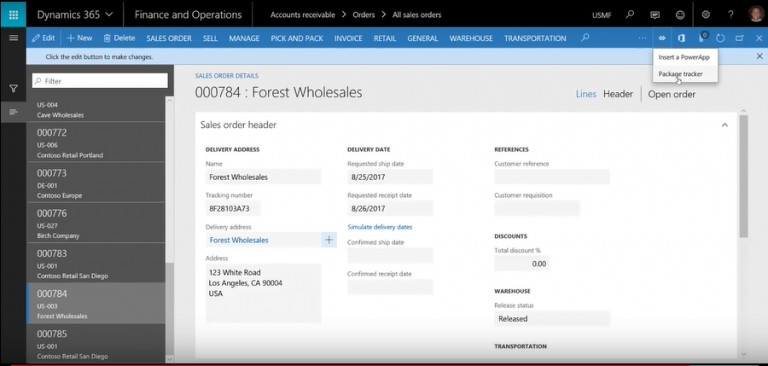 Here the tracking number shows the status of the order lifecycle with real-time information on the delivery, where it can pull in the delivery status from the logistics provider. Pretty cool!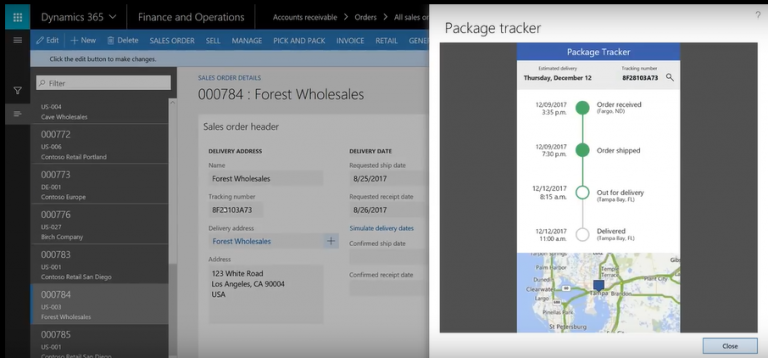 Check out a recording of this new feature: https://youtu.be/x3qyA1bH-NY
Armanino can help you rapidly prototype, configure and deploy these game-changing, intelligent business applications today. Reach out to learn more!
If you are on an older release of Dynamics AX, you can add this to the large and growing list of compelling reasons to justify the move to the next generation of business applications from Microsoft. With D365 you now have the power to bring together these composable business applications to enable you to take advantage of the modern technology in Dynamics 365 and accelerate your digital transformation.