Controlling when sales orders and products can be entered and released in Dynamics 365 Finance & Operations (D365 F&O) can be a critical task. These dates can be affected by regulatory agencies or by internal marketing campaigns. Two new fields have been added to the Released Product form that make controlling the D365 F&O Item Sell Start and End dates easier.
The Sell Start Date and Sell End Date were added to control when orders for items can be entered. Items that have a specific release date, such as a CD or book, prescription drug releases or large product line releases, might use this functionality. These dates block users from entering orders before it is acceptable.
Field Location
In the Released Product Details window, navigate to Product Information Management > Products > Released Products. The Sell Start Date and Sell End Date were added to the Sell FastTab on the Released Products form.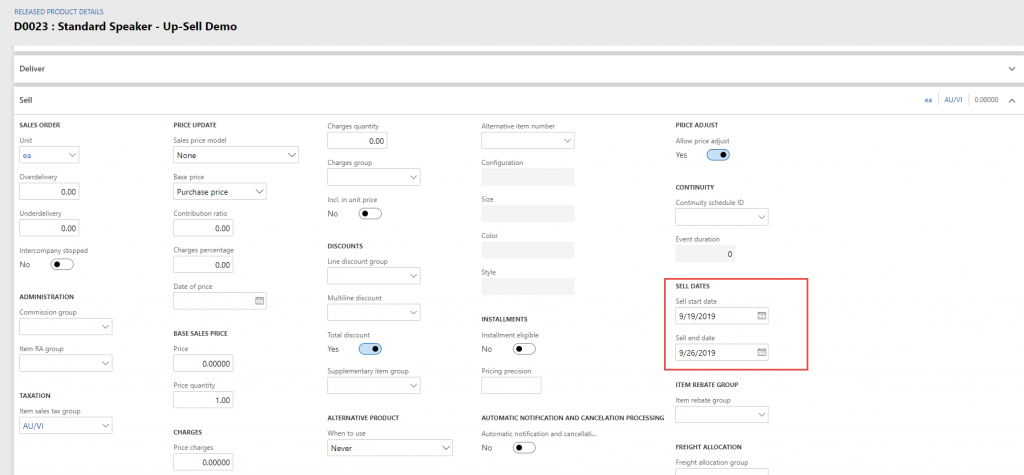 Entering Orders: Before Sell Start Date
The image below shows the error received if the date the order is being entered is before the allowed Sell Start Date. In this example, the Sell Start Date was set for 9/19/2019, but the date is 9/17/2019.

Entering Orders: After the Sell End Date
In the example below, the Sell End Date is set for 9/26/2019. I will be entering the date as of 10/1/2019. The new line is blocked from being added.

Using the D365 F&O Item Sell Start and End Dates functionality lets companies ensure that no sales or product orders are entered prematurely. This will help to maintain customer satisfaction across the organization. Find more tips and tricks on D365 throughout the Armanino Dynamics blog and through Armanino's team of Dynamics experts.